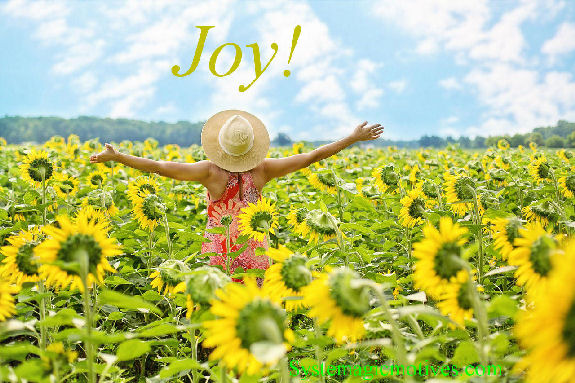 Share Freely
Also: Affability, Afterglow, Agreeability, Agreeableness, Alleviation, Amiability, Amusement, Appreciation, At-oneness, Avidity, Blast, Blessedness, Bliss, Blissfulness, Blitheness, Blithesomeness, Bonniness, Boost, Brightness, Bright side, Buoyancy, Celebration, Cheer, Cheerfulness, Cheeriness, Cloud Nine, Congeniality, Congenialness, Contentedness, Contentment, Conviviality, Cordiality, Delectation, Delight, Delightedness, Delightfulness, Ease, Ebullience, Ecstasy, Effervescence, Elation, Elevation, Enchantment, Enjoyableness, Enjoyment, Enlightenment, Enlivenment, Enthrallment, Enthusiasm, Euphoria, Exaltation, Excitation, Exhilaration, Exuberance, Exultance, Exultation, Felicity, Festivity, Fortunateness, Frivolity, Frolic, Fulfillment, Fun, Gaiety, Gas, Gayness, Gladness, Gladsomeness, Glee, Gleefulness, Glow, Good Fortune, Good Nature, Good Spirit(s), Gratification, Gratulation, Gusto, Happiness, Hey-day, High, Hilariousness, Hilarity, Hoot, Humour, Hurrah, In seventh Heaven, Intoxication, Jauntiness, Jocosity, Jocularity, Jocundity, Joie de Vivre, Jollies, Jollification, Jolliness, Jollity, Joviality, Joyance, Joyfulness, Joyousness, Jubilance, Jubilation, Jubilee, Kick, Laughs, Laughter, Levity, Lift, Lightheartedness, Liveliness, Merriment, Merriness, Merrymaking, Mirth, Mirthfulness, Nirvana, Optimism, Pep, Peppiness, Play, Perkiness, Playfulness, Pleasantness, Pleasure, Rapture, Ravishment, Regalement, Rejoicing, Relish, Repletion, Revelry, Rhapsody, Rollick, Romp, Rosiness, Satiety, Satisfaction, Seventh Heaven, Sociability, Sparkle, Spice, Spirit, Spiritedness, Sportiveness, Spree, Sprightliness, Sunshine, Tang, Thrill, Titillation, Transport, Treat, Uplift, Vim, Vitality, Vitalization, Vivaciousness, Vivacity, Vivification, Whimsy, Well-being, Zeal, Zest, Zing, Zip
Joy is one of the 'Fruits of the Spirit'. The Fruits of the Spirit are the personal application of The Universal Laws.
Not the Bible: A Positive Word Resource and More
"There is no way to be pointed out save [except] the 'I AM'
It is the birth of the spirit." - Edgar Cayce Reading 262-10
Aah! Cheers Cheers! Cool! Excellent! Gramercy! Hallelujah! Hurray! Huzzah! Kudos! Love this/it! Ta-da! Whee! Woo-Hoo! Wow! Yay! Yes! Yippy! You Rock!
Positive Adjectives Positive Nouns that Describe People Positive Abstract Nouns
The Positive Emotions Positive Word of the Day